'Art for Peace' by Sri Chinmoy
Collie Gallery.  October 31-December 6, 2020
134 Throssell Street ~  Open Thursday-Monday 10am-4pm
Opening Ceremony October 31,  2pm.
SRI CHINMOY (1931-2007) was an Indian born artist, poet, musician, author, athlete, philosopher and spiritual guide. He moved to America in 1964 and during his life in the West created over 140,000 pieces of abstract mystical art, along with nearly 16 million drawings of birds symbolising the freedom of the human soul. Sri Chinmoy never charged for his original artworks, always seeing his art as a selfless service to humanity.
"Art is not something to be understood.  It is something to be felt."   Sri Chinmoy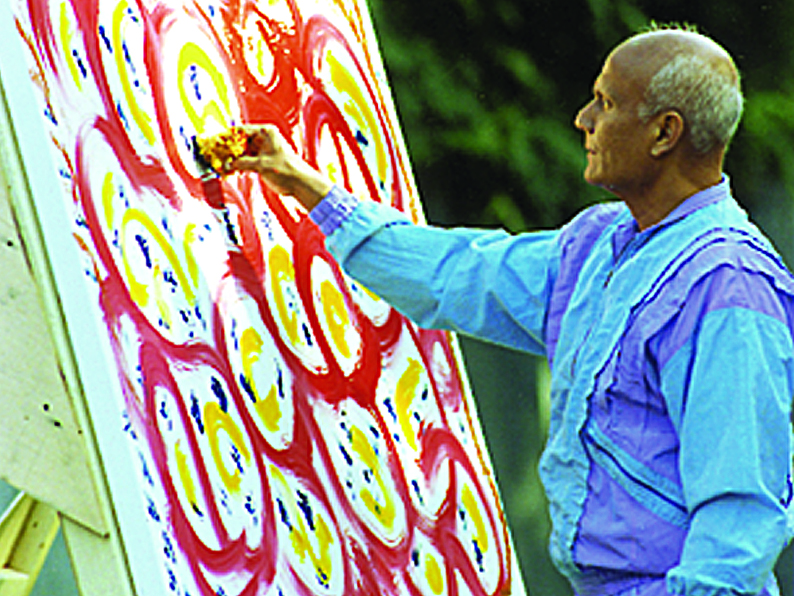 _____________________________________________________________________________________________________________________________________________.  Art for Peace' by Sri Chinmoy  
Ellenbrook Arts Gallery Exhibit ~ June 17- July 17 during opening hours, 34 Main Street.   An incredible exhibition of over 100 of Sri Chinmoy's original Soul Bird drawings.
Ellenbrook Central  ~  June 3 – July 3  – a video exhibition of some of Sri Chinmoy's art  and poetry on display at Ellenbrook Central Shopping Mall.
About the Artist
Sri Chinmoy (1931-2007) was most well known as a spiritual teacher, musician and sportsman, but he was also a prolific poet, artist and author. He felt these creative pursuits represent a positive way of spreading peace. He learnt to meditate for up to 8 hours when he was still a child in India and applied this skill when painting or drawing. His paintings are very meditative and inspiring for the viewer.  There is a tangible peace emanating from the paintings.
The art was originally to be displayed in May at Ellenbrook Arts but the date was moved to June 17 following the easing of gallery restrictions. Fortunately Ellenbrook Central was supportive enough to realise the importance of making inspiring art available to the public at this time. "We were really lucky that Ellenbrook Arts and Ellenbrook Central had a relationship to promote art in the community. Shopping Centres were one of the few places not restricted too much in lockdown. We will be in the unique situation now of having the screen exhibition complimenting the gallery exhibition and the screen offers the chance to display local school children's art for peace once it is received," said Art for Peace organizer, Grahak Cunningham. None of the art is for sale and it is embued with colour and a positive motif. The exhibition aims to inspire and uplift the viewer with its inspiring use of bright, joyful colours. Nearly all the pieces carry the artists signature birds which Sri Chinmoy viewed as messengers of peace and freedom. "The bird," he said, "knows no boundaries. It is a messenger of peace and freedom, born in the garden of the soul and taking flight in the heart."
Ellenbrook is a great example of people from all walks of life, cultures and backgrounds coming together to live or visit this special area. It is a perfect place to have an exhibition that promotes peace. The Ellenbrook Central Shopping Centre exhibition is outside a usual gallery setting, many people who wouldn't visit a gallery can still be inspired by peace and meditation and perhaps visit the gallery later in the month." Sri Chinmoy's art has previously been exhibited at Parliament House, Canberra, at the Carousel du Louvre, Paris, the foyer of the United Nations Headquarters in New York and the Commonwealth Institute in London.
Comments on the art from humanitarians Mikhail Gorbachev, Nelson Mandela and Mother Teresa are also displayed with the art.
There will be free guided meditation classes at the gallery. Visit our calendar page for more info and to register. Topics will include art and meditation and you will be immersed in the peace of the artwork making meditation that extra bit easier.