Don't miss this free concert by one of the nicest world music groups you will hear in PERTH Modern Schools Beasley Auditorium on November 1st at 7.30pm.
Agnikana´s Group is predominantly an ensemble from Czechoslovakia. They have recently finished performing to capacity venues in Bulgaria and New York and will be touring their way across Australia and New Zealand. The female members play on a whole range of instruments, including harmonium, guitar and flute, santur, udu, glockenspiel and dulcimer and sing in English and Bengali.
Eight members are coming to Australia.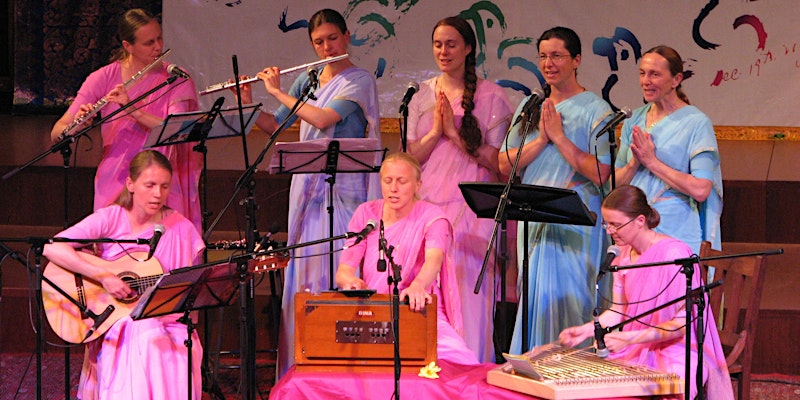 This group was founded by Zlin musician Agnikana Senkyrova in 1997 and their music has been described as soulful and ethereal – mixing angelic voices with their acoustic instrumental arrangements. It is meditation music, peaceful and uplifting. It is worth having a listen to them online if you need some peace in the day. "While singing,"Agnikana said, "we attempt to create and maintain an atmosphere of harmony, peace, purity and soulfulness so that the listener can draw on as many meditative qualities from the songs as possible and at the same time, appreciate the melodies."
Meditation Music
Her group members come from Slovakia, Canada, Austria and Switzerland depending on whom can travel at the time and often includes her mother and sister. "What brings us together and gives us inspiration and strength is not just the music itself, but the pursuit of truth through meditation. And this meditation is an integral part of our lives." Relatedly the musicians have all learnt meditation from Indian teacher Sri Chinmoy and the all-female ensemble is entirely devoted to performing his music, drawing on the 16,000 songs he composed. "Music is the universal language" he once said. "We do not have to learn any particular language to communicate with others if we can play soulful music. Soulful music is next to meditation, and it carries the beauty and fragrance of silence…"
Their love of music has taken Agnikana's group to some wonderful places: Iceland, Mongolia, Korea, Vietnam, Italy and France to name a few. They have released four CD's and completed numerous concerts (always free). They perform because of the peace they feel when doing so and its ability to impart the same feeling to the audience "Our first concert took place in June 1997 and since then we have offered over 200 public performances throughout Europe, Asia and Northern America," said Agnikana.
This is their second tour of Australia, last visiting in 2015. "We really found Australia magic," Agnikana said. "Each concert is special, and Australia and New Zealand are places we have always wanted to come back to."
Call 61614156 or use our contact form for more information or reserve your tickets below through the Eventbrite platform below.
Parking is easiest of Subiaco Road, via the basket ball courts.